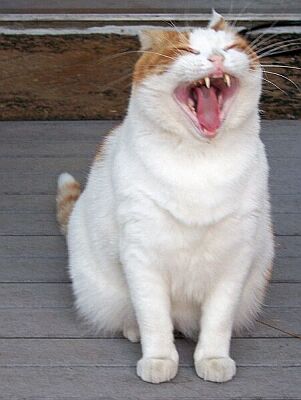 It so happened that at the day I found Patrick, I also found a couple of new friends who helped me to deal with the one thing Patrick couldn't help me with: my addiction. With new friends, a new lifestyle, and a lion in my pocket I was able to overcome things that had been beating me all my life. And so, every year on St. Patrick's Day, I did not only celebrate my lion but also another year of sobriety – six years so far! (That was in 2008). And I truly believe it would not have happened without my lion. In those six years, life challenged me with a number of obstacles: a divorce, a layoff, two car wrecks, a serious debt consolidation, two surgeries and three root canals - but with the tools my new friends gave me everything was manageable - and with a lion in my pocket there was nothing to be afraid of.

Lately, my good friend wasn't doing so well. Until a week ago I didn't even know that cats can get cancer. But my lion, who was with me in every battle life had thrown at me, couldn't win this one. And when we finally faced the inevitable, the best woman in the world told me that my lion now had to move on to help someone who needed him more than I did.

Yesterday, we buried Patrick and I told her the story of "Tim and the Lion." I truly believe that he left me because he knew I could finally handle life. And he stayed with me through pain and cancer until he was sure of it. I like to think my lion is out there today, helping some other little boy who wouldn't make it through the dark without him.

Farwell Patrick, you will be missed!